Contextual Advertising on 

Google

Yandex
One web agency is happy to help you with one of the most effective types of advertising on the Internet, which is Contextual Advertising.
Contextual Advertising - is a placement of advertising text ads next to the searching results (Google or Yandex). Ads are shown only when an Internet user is searching for your products or services.
You are paying only when a potential customer moves to the site by clicking on the ad.
Main Advantages:
quick start – advertisements showing almost immediately after setting up the campaign;
unlimited number of keywords that will trigger ads;
payment only for the transition to the advertiser site: the user clicking on the ad – seeing your website - you are paying the CPC (the cost per click depends on the level of competition);
flexibility and detailed statistics.
Advertising on the Internet has gone long ahead for its efficiency and profitability of various types of outdoor advertising, advertising on radio and television. Therefore, numbers of those who wish to order advertising on the Internet are growing from year to year, when more and more people prefer contextual advertising to alternative types of advertising.
Contextual advertising on Google (example)
Red images are marking advertisements and showing the usual search result.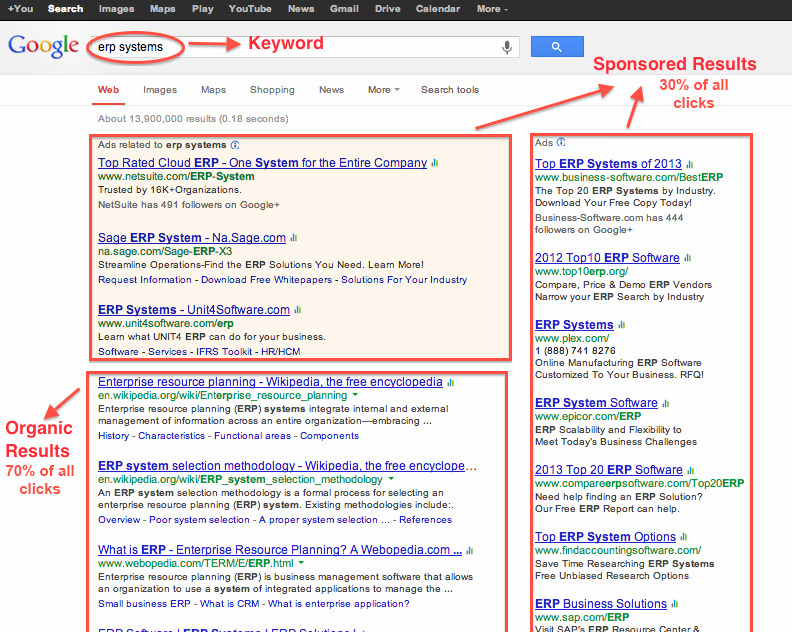 Contextual advertising on Google (Google AdWords) is the most popular in Great Britain among various tools of advancement in the Internet. Our web agency in London happy to provide a context advertising for your cteated website.
Price for context advertising included:
an individual advertising strategy development;
setting up an advertising campaign;
text advertisements creation;
recommendations for site optimization;
regular monitoring and analytics;
reporting and recommendations;
technical support and problem solving.
Just contact us when it is convenient for you and order your contextual advertising.